Shaping Tomorrow
Digital Business Management for Decision makers
Apply now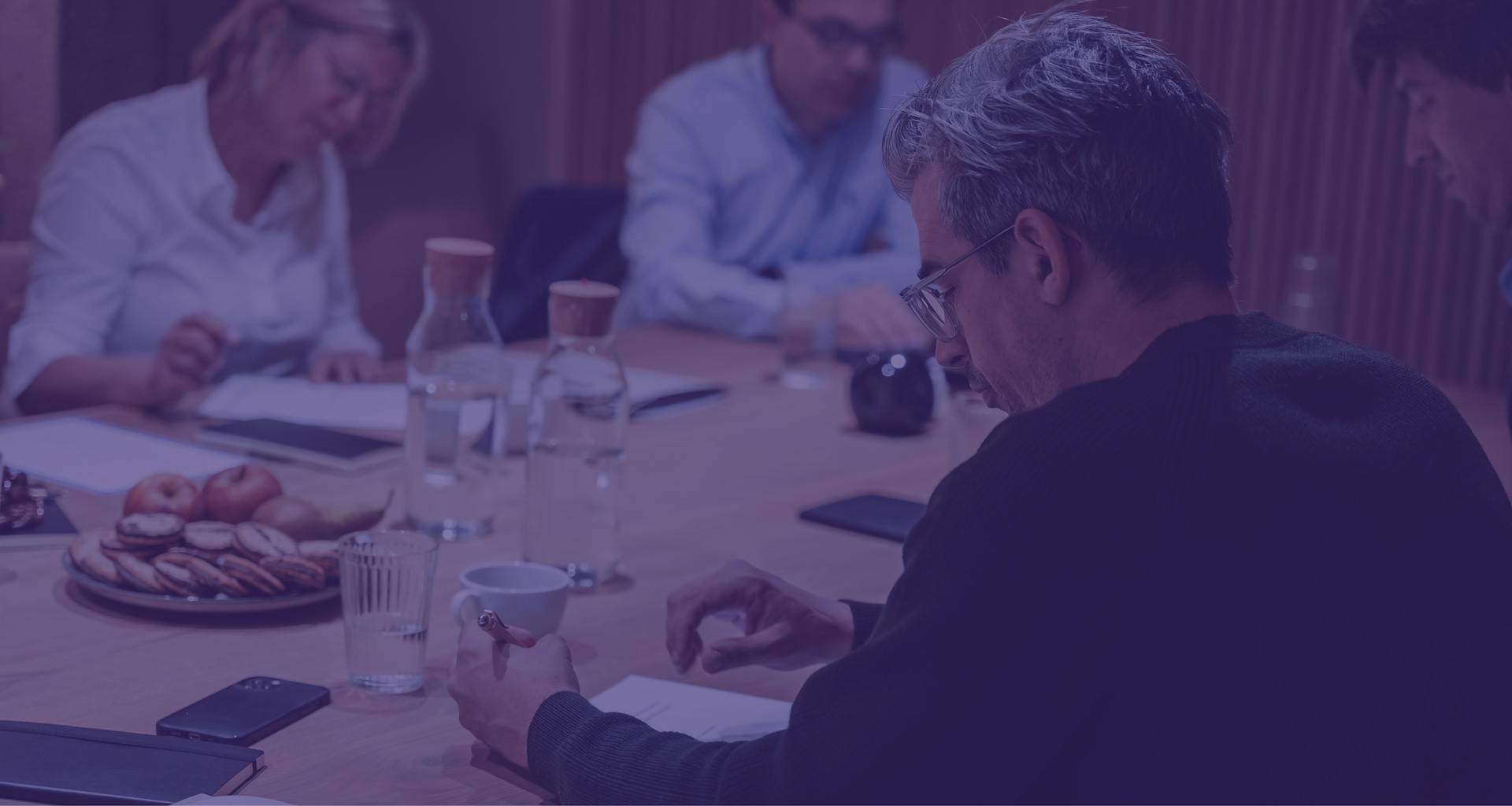 Grasp the digital potential of your organisation with
Shaping tomorrow, an impactful series
of management masterclasses.
We'll guide you through what you need to know (and forget) to steer your company through a successful digital transformation.
1 YEAR, 9 MASTERCLASSES
A series of management sessions to give an overview of both the current digital landscape and future shifts or evolutions.
Dr. Maarten Vanhoof, Data Expert
The Power Of Data
The potential and pitfalls of data: gathering, visualising and mining data
Roeland Tegenbos, Digital Strategist
Privacy & Security
Overview of the key aspects, mechanisms and roles when it comes to digital security and privacy.
Roel Van Gils, Digital Accessibility Expert
Inclusion in the Digital Age
How to embrace inclusion as part of your Digital Strategy and experience the true ROI of making your products accessible to everyone.
Roeland Tegenbos, Digital Strategist
Digital After 2025
How will your organisations digital strategy be impacted by the European Digital Services Act and Digital Accessibility Act.
Digitale disruptors of marketing hypes?
From Web 3.0 to NFT's: what is it all about and how can it impact your business?
Kenneth Roeland, Digital Strategist
Ecosystem & Platform thinking
From strategy to technological architecture. Understand the strategic opportunities and the architectural components to bring it to life.
Femke De Roo, Business Designer
The digital organisation
How do you 'go' digital? What are the main organisation models, principles and roles?
Charlotte Dieltjens, Service Designer
The voice of the customer
How can you design services and products your clients actually want? How do you integrate the voice of the customer throughout your organisation?
Nikolaas De Geyndt, Digital Performance Marketeer
Digital Performance Marketing
What Is Performance Marketing: How it Works, Channels, and Benefits for your company and bottomline.
1 on 1 coaching
Go the extra mile and schedule a 20-minute call with our top digital experts to discuss how you can translate each topic to your business context.
Selected group of peers
You'll become part of a small curated group of peers to challenge perspectives and share experiences.
On-demand learning
Gain a deeper insight into the subject matter with our complementary videos or articles. At your own pace. Available anytime, any place.
What others say...
"We have chosen to participate in Shaping Tomorrow because there is an enormous amount of change taking place and we need to have the background for it in order to make the right decisions."
Gain insight and make the right strategic choices
How do you create long-lasting growth for your company in the complex and fast-changing digital landscape of today? As a manager, you face more challenges than ever in making the right strategic choices. We'll guide you through:
Strategy

Steer your organisation with a strong strategic foundation.

New contexts

External influences that will impact your business.

Technology

Understand the technological landscape and how it's evolving.

Organisation

How do you set your organisation up for success?
Are you ready to Shape Tomorrow?
We prefer an intimate setting with plenty of room for interaction and discussion. This means that places are limited to 10. Make sure to register in time or join the waiting list.

Start

13th October 2022

Afternoon or evening edition

Where

Craftzing HQ, Antwerp

Price

€ 3,950 excl. VAT
Are you looking for a programme tailored to your business?
Do you have any questions?
Ask Femke, our Academy coordinator